A Perfect Snacking Experience
Simple, Clean Ingredients
Food dyes? Artificial ingredients and additives? At Deep River Snacks, we'd never add anything fake to our snacks. Only simple, clean ingredients.
Bold Flavor
From Original Sea Salt to Sweet Maui Onion to Zesty Jalapeno - we've got what you're craving! Our whole line of kettle chips features bold, delicious flavors that will make your taste buds say 'Wow'!
The Perfect Portion
Whether you're adding a smile to your lunch with a 1-ounce bag or sharing an 8-ounce bag with friends at a party, we've got your back! With a portion for every occasion, you can snack with us and never disappoint.
Original
Sea Salt
Thickly sliced potatoes, sea salt, and sunflower oil set the stage for our clean line of deliciously bold flavored kettle chips.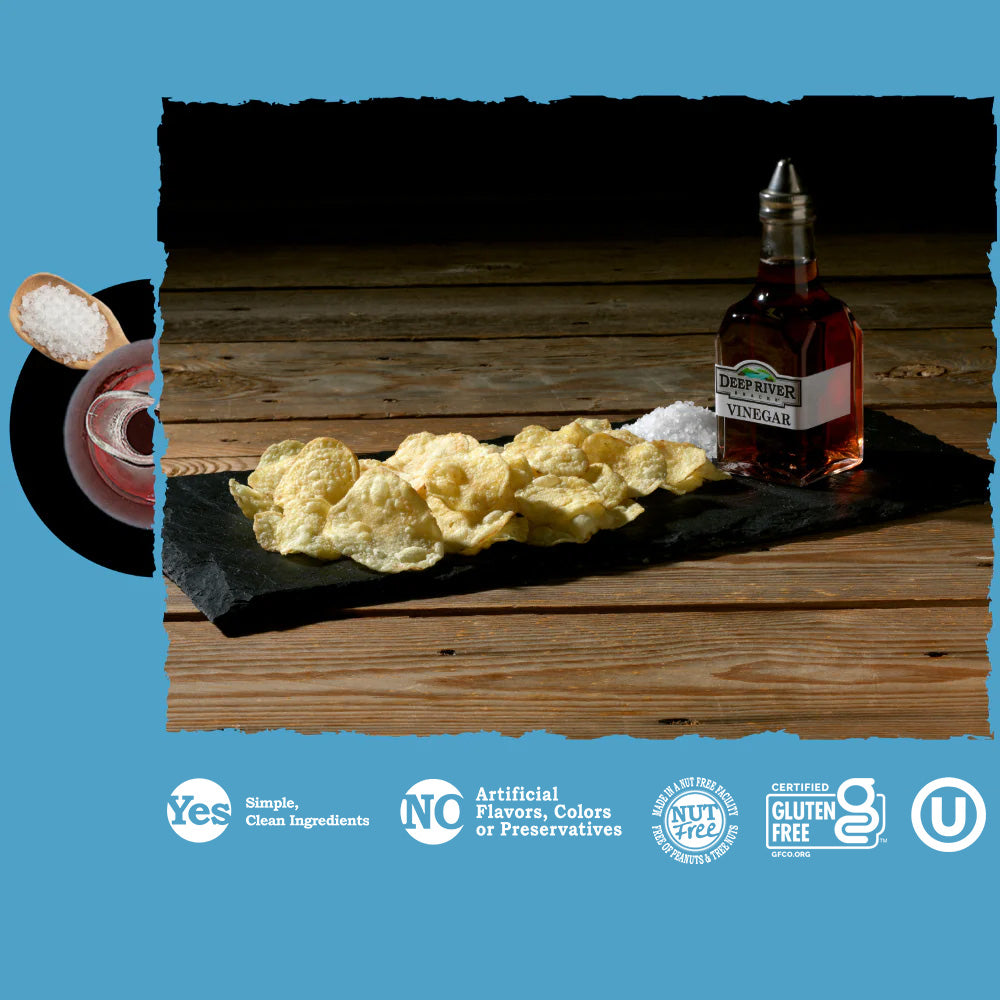 Sea Salt
& Vinegar
Thickly sliced potatoes, sea salt will and vinegar set the stage for our clean line of deliciously bold flavored kettle chips. Perfectly tart and tasty - a New England classic!
Mesquite
BBQ
Down-home, done right! The perfect blend of mesquite, brown sugar, and paprika, with notes of exotic spices - your taste buds will thank you.
Zesty
Jalapeño
Four-alarm kick with only four ingredients! Impossibly simple and incredibly delicious, our Zesty Jalapeño kettle cooked chips are the perfect balance of flavor and fire.
Sweet
Maui Onion
Combine the flavors of sweet onions and garlic, add our thick-cut potato chips, and you've got one of our most popular kettle chip varieties. It's simply addictive. Just don't say that we didn't warn you.
Salt &
Cracked Pepper
A deliciously crisp, krinkle cut potato chip with the perfect amount of salt and the lingering bite of cracked black pepper. So simple with only 4 ingredients, yet so pleasingly delicious!
New York
Spicy Dill Pickle
A hint of garlic and dill, a splash of vinegar, and just the right amount of heat combine to bring you the flavor of a New York deli pickle – in a kettle cooked chip!
Sour Cream
& Onion
The bold flavors of onion and garlic combine with tangy sour cream on our krinkle-cut kettle chips for an incredible flavor and crunch you can't resist.
Rosemary
& Olive Oil
Flavored to perfection with olive oil and a hint of rosemary and garlic.
OUR HERO INGREDIENT
A Variety for Nearly Every Diet and Recipe
Potatoes are the number-one source of potassium-a vital mineral that most Americans are lacking! Although America has creatively re-invented the traditional meat and potatoes diet, potatoes have remained a constant source of nutrition throughout the years.
Commitment to Safety & Sustainability
Deep River Snacks believes in an ongoing commitment to food safety and creating a sustainable food source for generations to come. Through education, continuous training and third party audits, achieves the highest standards at our commercial chip farms.
Emphasizing strict expectations in the stewardship of the land, our crops, and our people, Deep River Snacks produces high quality potatoes at every level of potato production. This is a distinction that we do not take lightly. We all work diligently to ensure that continued success!